Hmm, this is a hard one. I'm going to ask you the question people ask me all the time.Do you want more children? How many children do you want? Are you insane? (OK, you don't have to actually answer that one.)--Julie
Actually, I'd love to adopt again...and The King would love another tiny baby in the house. We'd gladly welcome more either way. We have no intentions of fixing that which is not broken. Am I insane? Well, the guy who unhooked my straight jacket to type this says I'm getting better all the time. They finally took me out of the padded room.
The Bible calls debt a curse and children a blessing; but in our culture we apply for a curse and reject blessings. Something is wrong with this picture.--

Doug Phillips
From Mike and Katie: What advice would you give to a mom with boys ages 11 and 13?
I'm certainly not the expert. After all, our oldest has totally humbled me in the parenting department. Work on training their souls and pray...a lot. Let them be boys/young men. Send them out with dad. Keep them physically active. Make them work, and work hard. And remember they are quickly becoming men. With my oldest, I really struggled. We butted heads, especially when my husband was travelling. I realize now that through most of our struggles, he was trying to be a man. He was trying to step into his God given role as leader of the family because dad was not around. At the same time, I was trying to keep him a submissive child, struggling to hold my spot as the leader of the family due to the absence of my husband. We were fighting for the same position and it caused much heartache.
Does your Sister-In-Love read your blog? If so tell her to visit or blog!
She does, and I will.
I also wonder about the Kings older brother and wife, too.
They are doing good. We don't see them as much as we used to. It probably has something to do with the seven grandchildren they now have. We were supposed to go with them to Costa Rica this winter, but due to the situation with our oldest, we had to put our trip on hold. Maybe next year!
From Kimmie: What is your favorite way to spend free time (without kids).
If I could, I would send my whole family away for a day or a weekend--after they've cleaned the house for me, and then sit alone in my exceptionally clean and quiet house, soaking in a hot bubble bath while reading a good book. But since my house is rarely empty with me left behind, I prefer to spend my free time wandering through fabric and book stores. Am I boring or what?
What is the book (besides the Bible) that has influenced your life?
Now this is a hard question, because so many books have left some sort of imprint in my life.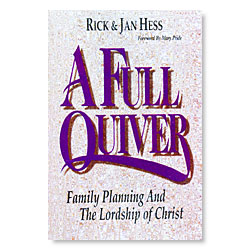 I'm going to go with two.
Stepping Heavenward
by Elizbeth Prentiss and
A
Full Quiver
by Rick and Jan Hess. A Full Quiver--the title alone is quite self explanatory.
Stepping Heavenward is a fictional story/journal of a young woman's life and spiritual growth. I recommend this book to other women as one of my "all time favorite reads". I first read this when I only had boys. I am so excited that I now have girls. I plan to read it aloud to them one day.
I'd (too) love to hear your testimony.
I posted that in my first Q & A session.
Do you live in a castle in fairy tale land?
Yes, I do. Here she is, all 2500 square feet of her. This place costs about as much a month to heat as a castle would. She needs a lot of work. It was, when we moved in 8 1/2 years ago, and still is, a fixer upper. At the time, I was so excited about getting out of town and onto the nine acres of land, I hardly noticed all the work that needed to be done. The King did notice....and was a little more reluctant than I to take on such a task. Even with all the work and money this old shack has consumed, we are so thankful that God led us to our little piece of paradise.
I still have a few more questions to answer. I'll quit boring you for today and post more later.